PROJECT TEAM
Getnet Tadele is a professor at the Department of Sociology, Addis Ababa University and Honorary Professor at Jimma University, Ethiopia. He has been working on the interface of sociology/anthropology and health for over two decades with particular focus on sexuality, HIV/AIDS and sexual and reproductive health and rights, podoconiosis and other NTDs, enhancing gene*environment interactions and  many other issues related to children and youth. He has co-edited two books and published a book and over 55 journal articles and book chapters. He has received a number of prestigious academic grants and fellowships including Fulbright scholarship and NIH grant from US, Ford Foundation scholarship, Erasmus Mundus scholar scholarship in International Health, Erskine Fellowship from University of Canterbury, New Zealand and attended over 80 conferences and workshops in Africa, Europe, Asia, North and South America. He has also taught and/or researched in Nigeria, Ghana, Senegal, Netherlands, UK, US, Australia, New Zealand and Norway.
Further, for more than two decades, he has been intensively engaged in community or consultancy services for various government organizations, multilateral and bilateral organizations, local and international NGOs based in Ethiopia and foreign universities and organizations. In addition to contributing to the production of knowledge on uncharted territories, many of his academic and consultancy research projects contributed to improved policy and practice. 
Other than teaching and research, Getnet has a strong and sustained commitment to social justice issues and a long standing involvement in community development projects. He wrote proposals and raised funds from International NGOs and community and helped in building a 48 meter steel bridge over a big river, two elementary schools, two high schools and a preparatory school in his rural area (Azena, Amhara region). He is currently raising funds for a high school under construction in remote low land area known as Ambela and expansion of Azena elementary school.   
In recognition of his excellence in research and community service, he has received a number of awards and prizes from different organizations and countries. Among others, he is recipient of AAU's "Distinguished Research Award" for 2015/16 academic year, "Higher Honor Laureate" (from Abyssinia Award), "Exemplary Community Service Award" (from P2PUSA), and "Yusuf Badri Civic Engagement International Prize" (from Ahfad University for Women, Sudan).
Getnet received BA in Sociology and Social Administration from Addis Ababa University, Graduate Diploma and MSC in Health Social Science from the University of Newcastle, Australia and PhD from University of Amsterdam, Netherlands. 
Role in the Project:  Co Investigator
E-mail:  This email address is being protected from spambots. You need JavaScript enabled to view it.   or  This email address is being protected from spambots. You need JavaScript enabled to view it.   
website: Azena.Info
Kibur Engdawork (PhD) is an Assistant Professor at the Department of Sociology, at Addis Ababa University. Kibur graduated his PhD in 2019 from Addis Ababa University. He has been working on social efforts that aim at reducing stigma and improve the health behavior of people in rural areas. So far, he co-authored three articles on podoconiosis in reputable peer-reviewed journals. And he presented his study findings in several international conferences. Kibur has a credited certificate in Qualitative and Mixed Methodology in International Health Research from Beligium's Institute of Tropical Medicine. He also obtained a certificate in Introduction to Stata and Data Management & Statistical Analysis Using Stata Course from Imperial College, London, UK. He further received a certificate in grant proposal writing from University of Cologne. He was a visiting student fellow at Brighton and Sussex Medical School, UK in 2018. Kibur has been actively involved in teaching and supervising undergraduate and graduate students in Addis Ababa University. He has recently been awarded a post-doctoral research fellowship for Social Sciences for Severe Stigmatizing Skin Diseases (5S foundation) at Organization for Social Science Research in Eastern and Southern Africa (OSSREA), funded through the National Institute for Health Research (NIHR).
Role in the Project: Post-doctoral research fellow
Addisu Tsegaye, after completing his BA in Sociology from the University of Gondar, Addisu began professional career at Bale Mountains National Park as a Community Services Expert.  As a junior sociologist, Addisu worked closely with local communities living in nearby areas of the park. He helped the park establish and strengthen ecotourism activities to diversify the livelihoods of communities while promoting their contribution to sustainable park conservation. Other responsibilities included community outreach, strengthening the relationships between the park and stakeholders and mitigation of human-wildlife conflict. Since 2014, Addisu has entered teaching profession at Wollo University and has served as a graduate assistant lecturer and as a full instructor.  Besides teaching undergraduate sociology courses, he had also chaired the department for one year until his move to Addis Ababa University for MA study in Sociology. He actively engaged in community services at Wollo University and provided trainings for the local government offices and community representatives on illegal migration, gender, harmful traditional practices, and community health insurance. Addisu's MA thesis focused on how women make fertility control and abortion decisions amid competing discourses, condemning religious interpretations and stigmatizing socio-cultural normative processes. This research project sparked his ambition to study health topics from sociological and social sciences perspectives. Currently, Addisu is a PhD fellow at Brighton and Sussex Medical School, and his research project will explore how precarity and marginalization affect refugees' vulnerability to, illness experience of and responses to scabies in refugee camps in Ethiopia.    
Role in the project: PhD Student at Brighton and Sussex Medical School
E-mail:  A.  This email address is being protected from spambots. You need JavaScript enabled to view it.   or  This email address is being protected from spambots. You need JavaScript enabled to view it.  
Tel: +251913419661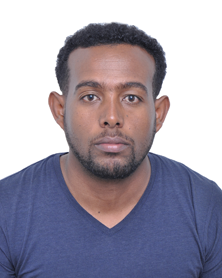 Dereje Wonde studied sociology at the University of Gondar in his undergrad level and obtained a master's degree in sociology from Addis Ababa University. He has been an academic staff in Jimma University since 2011.  Dereje is interested in researching the socio-cultural dimensions of health and illness, the structural factors affecting the health behavior of individuals, and health problems of vulnerable groups. His master's thesis examines the barriers and facilitators of health seeking behavior and health service utilizations of rural people from healthcare facilities. In his research endeavors, Dereje emphasizes to scrutinize the connection between personal sufferings and structural forces as an analytical framework to understand the role of contextual factors and social roots of health problems. He also strives to integrate the political economy approach in his works to nurture the critical understanding of social phenomenon.  Currently, Dereje is a PhD student at 5-S foundation in BSMS. His PhD project aims to understand the socio-economic and political causes and consequences of scabies. In his project, Dereje seeks to investigate the everyday life of people affected with scabies by exploring the lived experience of scabies victims and community perceptions and reactions towards scabies in the Amhara Regional State of Ethiopia.
Selected Publications: Million Tesfaye, Baeumler PI, Siebeck M, Markos Tesfaye, Dereje Wonde,Haileamlak A., et al. (2019). The views of patients, healthcare professionals and hospital officials on barriers to and facilitators of quality pain management in Ethiopian hospitals: A qualitative study.
PLoSONE, 14(3): https://doi.org/10.1371/journal.pone.0213644.Dereje Wonde and Amanti Baru. (2019). The Perils of Chronic Illnesses: Patients Lived Experience and Societal Reactions in Central and South-western Ethiopia. Innovative Issues and
Approaches in Social Sciences, 12(2): 114-136. Amanti Baru, Dereje Wonde, & Nega Jibat. (2018). Socio-economic situation of the elderly in Jimma Zone, Oromia/ Ethiopia. Ethiop.j.soc.lang.stud. 5(2):3-22, http://www.ju.edu.et/cssljournal/.ojs.ju.edu.et. Dereje Wonde & Amanti Baru. (2018). Healthcare seeking behavior and lifestyle modifications among chronic illness patients in central and southwestern Ethiopia.
Ethiop.j.soc.lang.stud. 5(2):23-42, http://www.ju.edu.et/cssljournal/.ojs.ju.edu.et.  Dereje wonde and Getnet Tadele. (2016). Impediments of health seeking behavior and health service utilization from healthcare facilities in a rural community in East Gojjam Zone, Ethiopia.
Ethiopian Journal of Health Development, 29(2):99-110.  
Role in the project: PhD Student at Brighton and Sussex Medical School


Garedew Yilma, Academic Qualification: 
Master's Degree focused in Development studies majoring Sociology from Lund University, Sweden and Bachelor Degrees focused in Sociology from Addis Ababa University, Ethiopia.
Overview of responsibilities: Responsible for coordinating the research project ''Social Sciences for Severe Stigmatizing Skin Diseases (The 5-S Foundation)'' undertaken by Organization for Social Science Research in Eastern and Southern Africa (OSSREA) in collaboration with the Department of Global Health and Infection at Brighton & Sussex Medical School (BSMS)in Ethiopia.
Area of expertise: Program and project management in the research industry. Financial and budget management; Planning and reporting;  Skilled in Social policy, Child Protection, Child labour, Child marriage, Gender and FGM, Environmental Issues and Education.
Role in the project: Project Manager
Email:  This email address is being protected from spambots. You need JavaScript enabled to view it.  
Twitter: @garisonford 
Skype Id: +251911365944
Tseganseh Mulugeta, A public engagement officer at 5S project and a PhD student at Addis Ababa University. She is interested in health communication for behavior change especially on the role of community conversations to reduce stigma against podoconiosis patients in Ethiopia. She published an article on media coverage and the public awareness about child abuse and child protection in Ethiopia. She has several years of experience in teaching, research and communication at Bahir Dar University, Ethiopia. She earned an MA and BA in media and communication from Addis Ababa University and Bahir Dar University respectively.   
Role in the project: Public Engagement Officer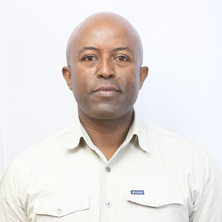 Alemu Tesfaye, Manager for Knowledge and Information Technology at OSSREA since December 20008. Communication officer for the 5S foundation Ethiopia project and other research projects. Have several years of experience in research uptake, communication, online learning and knowledge management in the field of social sciences. Got considerable skills in various technologies suitable for research uptake and communication such as content management systems, knowledge management systems, e-learning systems, data visualization systems and social networks. Interested in multi-disciplinary research, online learning and quantitative analysis using various data analysis software. Worked at different capacities for various organisations as a software development solutions expert. Studied Research Proposal Writing and Research Communication at INASP AuthorAid. An MBA honor graduate from Manipal University of India in Knowledge & Information Technology Management. 
 Role in the project: Communication officer

Alazar Emiru is a finance officer of 5-S project who works together with his Finance manager role in Ethiopian Construction Design and Supervision Works Corporation (ECDSWC). He has worked as Senior Financial Analyst of ECDSWC. He has twelve year experience in teaching Accounting and Finance courses at Unity University and four year experience as Accountant for Tezera-PHN-Consulting. Alazar is a certified trainer of International Financial Reporting Standards (IFRS). He is also experienced in Peachtree accounting and Enterprise resource planning systems application. Alazar graduated from Addis Ababa University with a Master of Science degree in Accounting and Finance and from Adama University with a Bachelor's degree in Accounting. 
Alazar Emiru
Finance Officer, 5-S Foundation Ethiopia
Finance Head, ECDSWC
Address: +251-912-14-54-88
Email:  This email address is being protected from spambots. You need JavaScript enabled to view it.
Role in the project: Finance officer
Videos
 Prof. Getnet Tadele intreview on AfriHealth TV
Podoconosis Video
5S Foundation Ethiopia Inception Workshop
---
Videos
5S Foundation Ethiopia team members interview and a short play
About 5S project (In Amharic)
About 5S project (In English)
The Social Sciences for Severe Stigmatising Skin Conditions (5S) Foundation at BSMS was established in 2019 and will run until August 2023. The programme is a £3.5 million collaborative research partnership between BSMS and the Mycetoma Research Centre in Sudan, the Organisation for Social Science Research in Eastern and Southern Africa (OSSREA) based at Addis Ababa University in Ethiopia, the University of Rwanda and the Institute of Development Studies (IDS).
Our vision is a Foundation that will end neglect of three conditions (podoconiosis, mycetoma and scabies) through bringing the social sciences to bear on these conditions in our DAC-listed partner countries. Podoconiosis is a progressive, debilitating form of leg swelling experienced by barefoot farmers, mycetoma a slow-growing, destructive infection of the skin and underlying tissues, and scabies an extremely itchy infectious condition caused by skin-burrowing mites. These conditions are huge public health problems in the three countries in which the 5S Foundation will work: Ethiopia, Sudan and Rwanda. In Ethiopia the project will work on two of the conditions (podoconiosis and scabies).
Situational Aims
To examine the cultural logics and social and economic contexts of the selected NTDs, utilizing cross cutting social science perspectives;

To understand the dynamics and dimensions of stigma;

To investigate how all three diseases have been conceptualized at the national and international policy levels;

To evaluate existing interventions in areas in which they have already been developed;
Strategic Aims
To refine a framework developed to identify gaps in understanding of the social contexts and consequences of podoconiosis, mycetoma and scabies;

To develop a comprehensive intervention strategy for each disease utilising all the evidence gathered from the above;
Capacity Building Aims
To support endemic-country training posts (PhD and postdoctoral) in a manner that will leave enduring capacity for social science research across a range of local health priorities, including NTDs;

To facilitate South-South and North-South sharing of best practice in research and advocacy applicable to a wide range of stigmatising conditions in low-resource, low-literacy settings.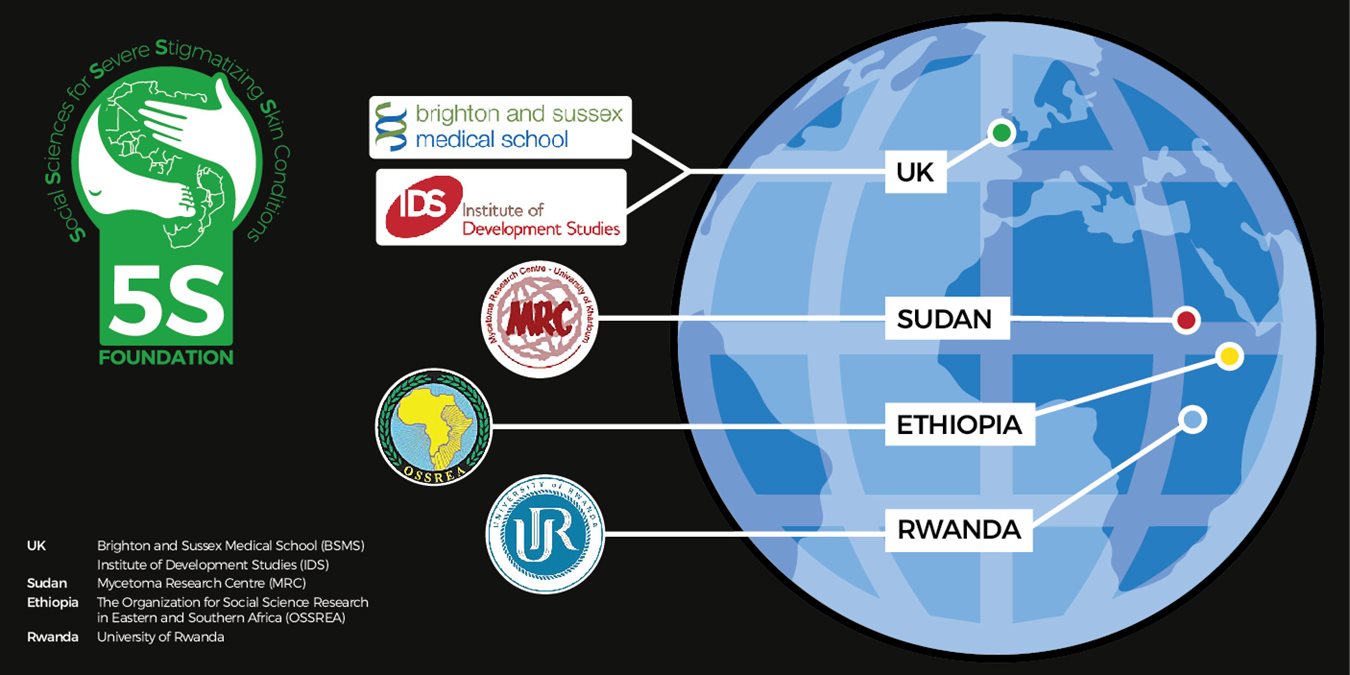 Brighton and Sussex Medical School (BSMS) is an equal partnership between the Universities of Sussex and Brighton together with NHS organisations throughout the South East region. The arrangements for the school's governance reflect this approach and students are awarded joint BM BS degrees of both universities.
Mycetoma Research Centre
The Mycetoma Research Centre (MRC) is a global leader in mycetoma management and research. The Centre was set up in 1991, at the University of Khartoum, and in 2015 was recognised as a WHO collaborating centre on mycetoma.

Contacts:
Dr Sahar M Bakhiet, Project Manager - This email address is being protected from spambots. You need JavaScript enabled to view it.
Professor Ahmed Hassan Fahal, Centre Leader - This email address is being protected from spambots. You need JavaScript enabled to view it.
University of Rwanda
The University of Rwanda strives to be a leading University that develops highly enterprising graduates prepared and dedicated to building a more just and sustainable society locally, nationally and globally, with appropriate innovations that advance quality of life.

Contacts:
Dr Peter Mugume - This email address is being protected from spambots. You need JavaScript enabled to view it.

OSSREA
The Organization for Social Science Research in Eastern and Southern Africa (OSSREA) is a regional membership-based and donor-supported research and capacity-building organisation whose mission is to promote dialogue and interaction between researchers and policy-makers in Eastern and Southern Africa with a view to enhancing the impact of research on policy-making and development planning.
READ MORE...

Contacts:
Professor Getnet Tadele - This email address is being protected from spambots. You need JavaScript enabled to view it.
IDS
The Institute of Development Studies (IDS) is a global research and learning organisation for equitable and sustainable change. In partnership with the University of Sussex, IDS is ranked first in the world for development studies by the QS University Rankings. IDS believe passionately that cutting-edge research, knowledge and mutual learning are crucial in shaping the transformations needed to reduce inequalities, accelerate sustainability and build more inclusive and secure societies. In line with our engaged excellence approach, we are committed to collaborating closely with local civil society, governments, international NGOs, citizens, donors, researchers and many others to realise this positive change.
Contacts:
Tom Barker - Senior Health and Nutrition Convenor: This email address is being protected from spambots. You need JavaScript enabled to view it.
Karine Gatellier – Nutrition Convenor: This email address is being protected from spambots. You need JavaScript enabled to view it.
Organisation for Social Science Research in Eastern and Southern Africa (OSSREA)
Email: This email address is being protected from spambots. You need JavaScript enabled to view it.
website: www.ossrea.net
Tel: +251111239484
Twitter: @OSSREA
Facebook: https://www.facebook.com/ossreaHQ/
YouTube: https://www.youtube.com/user/OSSREA
LinkedIn: https://www.linkedin.com/company/ossrea1
Telegram: https://t.me/Ethiopia_5S_Foundation

Subcategories
           Photo Gallery