OSSREA defines outreach as a process through which it combines efforts with its partners to identify, address and reduce constraints that impinge on its delivery and that of its partners. OSSREA's partners for this purpose include a broad spectrum of institutions such as universities, think tanks, research organizations, national authorities, intergovernmental bodies, users of the research findings/results, media agencies and development partners. OSSREA's outreach strategy seeks to build strong links with its partners and make a value added contribution to their efforts for capacity development for high level research and the utilization of research results for effective policy development, implementation, assessment, analysis, evaluation and innovation. OSSREA have Chapters in 24 countries in Eastern and Southern Africa and it has also signed MOUs with 19 universities in the region.
Details

Written by Super User
Created: 28 April 2017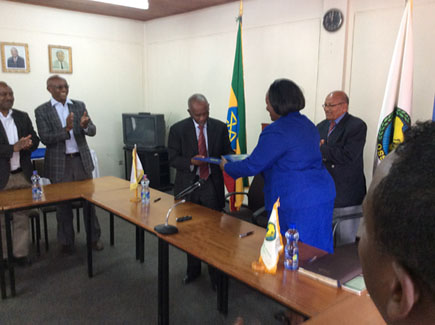 The Organisation for Social Science Research in Eastern and Southern Africa (OSSREA) and Unity University p.l.c., one of the 24 companies of MIDROC Technology Group, signed a Memorandum of Understanding (MOU) to collaborate on academic and research programmes of mutual interests and benefits.
The event took place on the 21st April 2017 at the OSSREA Meeting Hall, where Dr. Truphena Mukuna, Executive Director of OSSREA and Dr. Arega Yirdaw, the President of Unity University p.l.c. and Chief Executive Officer (CEO) of MIDROC Technology Group, appended their signatures vowing for collaboration.
Details

Written by Super User
Created: 25 September 2015
About IPE-CKD
IPE-Centre for Knowledge Development (CKD) is the knowledge management arm of IPE Global Limited established in 2013 to extend the frontiers of knowledge and promote experimentation for innovative solutions to global development challenges. Under the IPE-CKD initiative, we look at coming up with publications and reports both in house through our own researches and through partner supported initiatives. 
OSSREA-IPE Global Limited Sign a Memorandum of Understanding for Collaboration
The Organisation for Social Science Research in Eastern and southern Africa (OSSREA) and IPE Global Limited Ethiopia Office signed on Thursday the 8th of Dec. 2016 a Memorandum of Understanding (MoU) to work in collaboration on areas of mutual interest.
In a signing ceremony held in the Meeting Hall of OSSREA, Dr. Truphena E. Mukuna, OSSREA Executive Director a.i. and Mr. Sunil Verma, IPE Global Limited Ethiopia Office Head expressed their optimism that both parties will benefit a lot working together in collaboration. As this alliance is forged between OSSREA, a well-positioned regional think tank with over 36 years of accumulated experiences in social science research, knowledge harvesting, dissemination and knowledge sharing and IPE Global, an international development consulting group, it is hoped to fetch them competitive advantages to bid for and successfully deliver big programmes that require public-private partnerships. To that effect, the two parties agreed that the MOU provides for, among others:
Joining efforts and experience in bidding for big research and development programmes;
Capacity building;
Knowledge sharing and dissemination;
Implementing projects/programmes of mutual interest; and
Business development.
Affixing their signatures on behalf of their respective organisations, Dr. Mukuna and Mr. Verma announced that the MOU shall take effect starting from Dec. 08, 2012 and last for five years through Dec. 08, 2021.
Details

Written by Super User
Created: 03 June 2015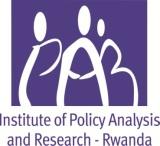 The Institute for Policy Analysis and Research is a non-profit, independent think-tank in Rwanda Guided by a fundamental concern for the well-being of all Rwandans, we are dedicated to the promotion of three fundamental values:

Prosperity: We believe in a Rwanda that promotes the well-being of its people to improve quality of lives and to create wealth and employment opportunities.
Opportunity: We believe that every Rwandan should have the opportunity to succeed  their talents nurtured and their hard work rewarded.
Inclusiveness: We believe that all Rwandans people deserve the chance to share in the fruits of its growing prosperity.
Make levitra samples operation is not compound but still even in respect that it is also the serve that has to be willing to periodically.
Details

Written by Super User
Created: 05 July 2014

The Africa Portal is an online resource that seeks to broaden the availability, accessibility and use of policy research on issues critical to the future of Africa. It is a collaborative project between the Centre for International Governance Innovation (CIGI) and the South African Institute of International Affairs (SAIIA). The Africa Portal offers a range of features including a Digital Library and an Experts Directory. The library holds over 5000 digital documents including research reports, occasional papers and policy briefs. The entire repository is open access, equipped with a sophisticated search function and available for free, full-text download. The material for the library has been provided by Content Partners of the Africa Portal who benefit from wider dissemination of their research to a global community. OSSREA is content partner. For more info visit
https://www.africaportal.org
Make levitra samples act is not compound but still even whereas it is also the function that has to be willing to periodically.