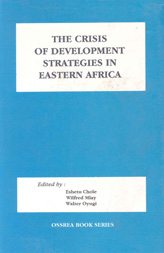 Chapter 1 Introduction: The Crisis of Development Strategies in Eastern Africa
Eshetu Chole

Chapter 2 The External Environment of Development in East Africa: An Overview
Okwudiba Nnoli

Chapter 3 The lMF Debate and the Politics of Demobilisation in Tanzania
Hoarce Campbell

Chapter 4 Food Aid and Food Dependency in Ethiopia
Dessalegn Rahmato

Chapter 5 Foreign Assistance and Local Capacity Building in Tanzania
Gelase Mutababa and Rweikiza Baguma

Chapter 6 Aid. Dependency and Civil War in the Southern Sudan
K.K. Prah

Chapter 7 The Effect of Foreign Policy on National Development: The Experience of Kenya
D. Katete Orwa

Chapter 8 The Pathology o/Institution Building: The Uganda Case
Dan Mudoola

Chapter 9 A Public Sector Without a Public Philosophy The Case of Uganda
Akiiki Mujaju

Chapter 10 Privatization in Africa: Premises and Prospects
Walter O. Oyugi

Chapter 11 Management of Public Enterprises: Some Aspects of Training and Development of Public Enterprise Personnel in Botswana
Keshav Sharma

Chapter 12 Lessons for Kenya from Indonesian Housing Policies
Sidik O. Noormohamed

Chapter 13 Constraints to Industrial Development in Ethiopia
Esbetu Cbole

Chapter 14 Some Aspects of Educational Development in Kenya since Independence
Daniel N. Sifuna

Abstract:

Compilation of papers selected from those presented at OSSREA's second triennial congress, which was held under the theme of a critical analysis of development policies in eastern Africa, the work highlights the range and magnitude of development problems in the region and proposes possible solutions. After an introductory chapter which summarizes subsequent ones, the papers deal with three main issues, viz., impact of exogenous factors such as world politics and participation in the world economy, structural adjustment programmes mandated by the IMF, food aid, foreign aid, and foreign policy on the process of development in the region; institutional problems of development such as politics, public sector philosophy, privatization and. management of public enterprises; and policies pertaining to the provision of housing, industrial developn1ent and educational development. The papers are titled: "The external environment of development in East Africa: An overview", "The IMF debate and the politics of demobilization in Tanzania", "Food aid and food dependency in Ethiopia", "Foreign assistance and local capacity building in Tanzania", "Aid, dependency and civil war in the Southern Sudan", "The effect of foreign policy on national development: The experience of Kenya", "The pathology of institution building: The Uganda case", "A public sector without a public philosophy: The case of Uganda", "Privatization in Africa: Premises and prospects", "Management of public enterprises: Some aspects of mining and development of public enterprise personnel in Botswana", "Lessons for Kenya from Indonesian housing policies", "Constraints to industrial development in Ethiopia", and "Some aspects of educational development in Kenya since independence: An appraisal".