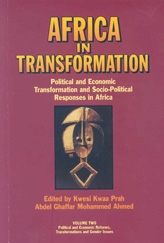 Table Of Contents:

Author: Kwesi Kwaa Prah and Abdel Ghaffar Mohammed Ahmed
Year: 2000
Table Of Contents:

The Contributors

Acknowledgment

Introduction
Kwesi Kwaa Parah and Abdel Ghaffar Mohammed Ahmed

Culture and Productivity

Exploration into the Culture Dimensions of African Productivity
J.C. Munene, Shalom Schwartz, Peter  Smith, Grace Kibanja, Debo Akanda and Matin Udwin

The Welfare State of Trial

The Trumph of Locken Politics in Africa
Akiiki B. Majaju

Civil Service Reform in Uganda

A Critical analysis of the Implementation and its Socio-economic Impact
Nankunda Hilda Kalekyeze

Traditional Leaders in the Decentralization Process

Civil Society, Indigenous Populist Institutions and Implications for Political Reforms in Uganda
Rebecca Mukyala-Makiika

The Rise of the Woman Traders Movement in Uganda
Marion Z. Namunyolo

The Nature of Economic Reforms in Tanzania and Botswana A Comparative Analysis
Diana Makule

Tradition and Modernity in Our Times

A Comparative Perspective on the Western Experience and its Implications for Africa
Herbert.W: Vilakazi

Economic Liberalisation and Civil Society in Sudan, 1989-1995
Atta El-Battahani

Pauperisation of the Middle Class in Sudan Adjustments to Structural Adjustment
Ibrahim Mohamed G. Sahal

Authoritarian Populism and Democratisation in Ethiopia
Merera Gudina

The Political Economy of Democratisation in Swaziland
Ackson M. Kanduza

Political Culture and the Limits of Institutional Reforms

Implications for the Future of the Democratisation Process in Zambia
Jotham C. Momba

Incorporating Women in Development The Namibian Experience, 1990-1996
Annelie Odendaal

The Participation of Women in Political
Fetenu Bekele

The Economic Structural Adjustment Programmes in Zimbabwe

Their Impact on the Gender Dimensions of the Urban Informal Sector in Harare
Neddy R. Matshalaga

The Effects of Structural Adjustment Programmes on Women's Health in Kenya
Eunice Kamaara

Gender Sensitivity and Development in Health Policies

A Case study of HIV/AIDS Policies in Kenya
Henrica Nasirumbi

Poverty and Food Insecurity in Tanzania

A Gender Perspective
Stephen M. Kapunda

Consolidated Biography


Abstract:

Compilation of papers for the Fifth Congress of OSSREA. The papers treated reform issues pertinent to the continent as a whole, as well as those particular to the sub-region. Theoretical reviews, country case studies comparative studies, historical evaluations on the reform process and their outcomes were encouraged. The contributions were presented under five major sub-themes: political reforms, economic reforms, the socio-economic implications of the political reforms, the socio-political impact of economic reforms, and the development strategies for Africa in the 1990s and beyond. Two volumes of proceedings emerged out of the transactions of the congress. The present volume (vol. 2) deals with political and economic reforms, transformations and gender issues.