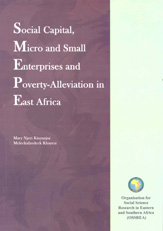 The purpose of this study is to investigate how trade, manufacturing and transport micro and small entrepreneurs in East Africa mobilize social resources in the form of social capital and utilize it as a strategy to carry out transactions. The evidence used comes from an extensive review of literature and fieldwork. The study sites were Nairobi, Nakuru, Busia, Kampala, Jinja, Morogoro and Dar es Salaam. The results reveal that social capital is articulated and utilized through networks, relationships, norms, values and actions to facilitate the entry and stay in these enterprises. As entrepreneurs stay and grow in this sector, they constantly construct their social capital and evolve business logic and practice that are used in business transactions. Though the social capital model was relevant in bringing out the form and scope of networks, associations, norms and collective actions in micro and small enterprises, it had limitations when it came to the analysis of interaction and conflict between different stakeholders in transport enterprises. The political economy model was utilized to examine this issue and it shows that the social capital model can be used in combination with other theoretical frameworks. The lessons for poverty-alleviation strategies are indicated in the following recommendations:
  a) The need for a sustained implementation of policies in East Africa. Generally, policy implementation is weak. If this is addressed, it will provide an enabling environment for micro and small enterprises. We recommend constructive state participation, especially the need for government effectiveness, efficiency, and the ability to enforce rules fairly.
  b) The need for intervention programmes to support existing micro and small enterprise networks, associations and collective action. This calls for an innovative and interactive process that needs to be initiated and sustained by both interventionists and entrepreneurs. Such a process has some promise in harmonizing supply-driven and demand-driven development of intervention programmes.

This study has revealed the role of social capital in micro and small enterprises in East Africa. There is, however, need for further research in the following areas: a) The structure and effects of interaction between civil and government social capital; and b) The extent of incorporation of objectives, programmes and activities into social capital, poverty-alleviation and micro and small enterprise activities of governmental and non-government