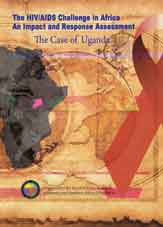 Table Of Contents:

1) HIV and AIDS in Armed Conflict Situation in Northern Uganda Augustus Nuwagaba

2) Needs and Coping Strategies of Female - Headed Families in HIV and AIDS: A Case Study of Masaka District, Uganda Mathias Ssamula

Abstract:
HIV and AIDS in Armed Conflict Situation in Northern Uganda Augustus Nuwagaba

Uganda has suffered from a series of conflicts since independence in 1962. The northern part of Uganda has been a zone from where the Lord's Resistance Army (LRA) has waged a war against the Government of Uganda since 1987.
The armed conflict has displaced a staggering figure of about 1.5 million people currently living in Internally Displaced People's (IDP's) camps (UNOCHA 2004). The area has been devastated by hunger and disease particularly HIV and AIDS. Though Uganda has registered outstanding achievements in the fight against AIDS with a decline in prevalence rates from 35 per cent in the early 1990s to 7 per cent in 2005, the incidence and prevalence rates remained on a rising trend in the areas affected by armed conflict with a rate of 9.1 per cent (MoH 2005). The armed conflict has resulted in abduction of people, especially women and young girls who are mostly raped, and forced to become casual sex partners and wives of the soldiers. As a result, HIV-positive soldiers could transmit the infection to these abductees. Rape and defilement are common in IDP's camps with 630 cases registered in Lira District between January and June 2005 alone (New vision 2005). Thus, this study was aimed at establishing the relationship between HIV and AIDS and internally displaced people (IDP) in conflict situation taking Northern Uganda as a case study. The project was executed in Northern Uganda districts of Gulu, and Lira. The study adopted a multifaceted design comprising both quantitative and qualitative (participatory approach) methods. The entire sample size from the two districts constituted 96 household respondents. Others were ten (10) key informants who were from the two districts' and national government officials and officials from non-governmental organizations. Throughout the entire exercise, the study maintained the framework of an evidence-based approach. The findings showed that commercial sex and general increase in the levels of promiscuity are highly linked to the emergence of risky behaviour due to desperate and crude income-seeking mechanisms that have led to the reported rising rates of HIV infection in the region. In Northern Uganda, about 44,000 people commute to the urban places at night for security where many have reported numerous cases of sexual exploitations. Moreover, there is a high level of HIV and AIDS awareness among IDP, but the use of Abstinence, Being Faithful to one partner, and Condom use (ABC) as a prevention strategy has been thwarted by a poor condom coverage in camps, and inadequate HIV sensitization and counselling programmes for the effective management of the AIDS problem in the region. Thus, a strong and applied legal framework is needed to bring to book quickly and severely, culprits of the sex crimes of rape, defilement and sexual exploitations. But more importantly, the country as nation needs to build democratic institutions for conflict, resolution. This will go a long way in proactively reducing the occurrence of armed conflicts, hence, contributing significantly to socio-economic development



Needs and Coping Strategies of Female - Headed Families in HIV and AIDS: A Case Study of Masaka District, Uganda Mathias Ssamula

HIV and AIDS globally affects all people alike, young, adolescents and older people, but it has a far-reaching impact on women who are deprived of their ability to support themselves and their children at the death of a husband. The patrilineal system in most African countries dictates that women do not inherit property; hence, a woman is left helpless. Furthermore, women's roles have traditionally been domesticated and they find themselves without skills and a job to get an income to sustain themselves and their children. Hence, the study was aimed at investigating the needs and coping mechanism of female heads in HIV and AIDS affected families in Masaka District, Uganda, in order to design appropriate and culturally specific HIV and AIDS interventions to these families. Both qualitative and quantitative methods were employed to gather data in Bukulula and Bukakata sub-counties in Masaka District, which were selected as case study sites. The study revealed food (88.9 per cent), clothing (81.5 per cent), beddings (79.6 per cent), school fees (46.3 per cent), shelter (46.3 per cent), and medicine/drugs as their major needs. Moreover, poverty was found to be the major constraint that forced the female - headed households with PLHA and AIDS affected families to sell crops and animals, and use past savings from their small-scale businesses as a coping strategy. The study recommended, among other things, strong involvement of local governments and civil society organizations to facilitate the efforts of female - headed households, support supervision to be in place, coordinate partnerships, and establish model programmes targeting vulnerable groups through capacity building.