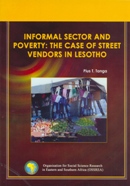 EXECUTIVE SUMMARY

This study investigates the survival activities of street vendors as a way of fighting poverty within households in the face of the current economic crisis that has dampened the survival spirits of many poor households in Lesotho. It also examines government intervention in street vending activities. The contributing factors to the present poverty include, among others, the harsh weather that is unfavourable to agricultural production; retrenchments in cloth and textile factories, as well as in the South African mines; absence of a vibrant private sector; and the inability of the government to create much needed jobs. Therefore, these factors have pushed many poor individuals into street businesses to fend for their households as a strategy to fighting poverty. The study is guided by a principal hypothesis that states that there is no significant number of street vendors climbing out of poverty. The three districts selected for the study are Maseru, Berea and Leribe. The specific study sites within these districts are Maseru, Hlotse, Maputose and Tetateyaneng. Primary data has been collected from 556 respondents through questionnaires, focus group discussions and interviews with officials of municipal councils.

The major findings include the following: Firstly, the primary reason for engaging in street vending for the overwhelming majority is to have a source of livelihood and stop the dependency syndrome. Although many street vendors had begun their businesses using personal savings and buying smaller stock on a daily or weekly basis, a few are able to acquire formal capital to buy large stock from South African cities. Most women deal in perishable goods, while more men than women deal in non-perishables. This pattern affects the gains or profits they are able to make. Furthermore, despite the fact that only a few street vendors' associations exist, the bulk of the vendors do not belong to any of them for various reasons, and this is rendering them ineffective and inefficient. Also, a few street vendors had undergone training prior to engaging in street activities, this had a positive effect on the profitability of some of them. The government had also failed in its attempts to regulate street vending through the construction of markets and stalls, even-though many belong to different political parties. A good number of vendors are able to show that they had acquired assets and other household equipment, as well as effected some improvements to the overall outlook of their homes and general sanitation in them, despite the meagre income they earn from their trade. Others express the satisfaction of household needs, among other benefits, which they derive as a result of their involvement in street vending. With regard to poverty alleviation, some vendors are escaping from poverty, while some are trapped in poverty and others are struggling but their households are still surviving. Overall, the number of street vendors climbing out of poverty is not significant.

Some conclusions drawn from the findings of this study include the fact that street vending is a viable option for many poor households in which the government is unable to properly intervene given its old and outdated framework. Secondly, the inability to acquire a trading license is an obstacle to vendors, as well as to government and councils, raising the much needed income from street vending. Finally, street vendors face enormous problems, risks and costs. One of the recommendations of the study is the urgent need for market reforms and other specific framework for street vending in the cities and towns of the country. Other recommendations include access to formal capital, better organisation and linkage to other international street vending associations and organisations, as well as formal training of street vendors by stakeholders.