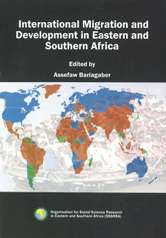 Table Of Contents:
Acronyms

Introduction: Tracking Progress and Challenges in Implementation of the MDGs in Africa by Nicholas Awortwi

Progress and Challenges in Eradicating Extreme Poverty and Hunger and Combating HIV/AIDS and Other Diseases in Lesotho by Jotham Dhemba, Simbai Mushonga, and Eltony Mugomeri

Schooling without Learning: Long-term Implications of Free Primary Education for Income and Welfare Inequalities in Kenya by Emmanuel Manyasa

Universal Primary Education in Botswana: Implementation, Achievements and Challenges by Robert Molebatsi and Kenneth B. Dipholo

The Challenges of the Implementation of the MDGs in a Fragile State: Universal Primary Education and Gender Equality in Madagascar by Mireille Rabenoro

Achievements, Experiences and Challenges of Implementing the Millennium Development Goals 3 and 6 in the United Republic of Tanzania by Elizabeth M. Msoka

Gender Equality and Women's Empowerment in Botswana: Progresses and Challenges by Tapologo Maundeni

Scaling up and Sustaining Gender Inclusion through the MDGs in Ghana: MDG-C1 by Ellen Bortei-Doku Aryeetey and George Domfe

Improved Maternal Health to Realise the Millennium Development Goal 5 in Kenya by Benard Mwori Sorre

Governance and Management Issues in Rural Safe Water Supply in Uganda: Implications for the Realisation of Millennium Development Goal by Asingwire Narathius

In roads in Alleviating Slum Conditions across Nigeria by Lee Pugalis, Bob Giddings and Kelechi Anyigor

Conclusion: Successes and Challenges of the Implementation of the MDGs, with Lessons for the Post-2015 Development Agenda by Herman Musahara
 

Abstract:


Introduction

Taking stock of countries' experiences provides evidence on progress and some of the specific challenges that may serve as inputs or lessons to be taken into consideration in the implementation of the Post-2015 agenda. The collection of studies in this volume present the experiences of eight countries in Africa, but which may also be relevant to others.

In Chapter One, Dhemba, Mushonga and Mugomeri assess the progress and challenges of eradicating extreme poverty and hunger, and combating HIV and AIDS, and Tuberculosis in Lesotho. Using data obtained from key informants from selected government ministries, NGOs and donor agencies as well as secondary sources, the study found that there is slow progress in reducing poverty and hunger, and in combating the spread of HIV and AIDS in the country. An underperforming economy and low food production are the key challenges that contribute to poverty and hunger.

In Chapter Two, Emmanuel Manyasa analyses the long-term implications of free primary education on income and welfare inequalities in Kenya. Using the basic logic of human capital theory and cross-sectional data analysis, Manyasa finds that free primary education (FPE) as currently implemented disadvantages children of the poor. Through social sorting in schools and the marriage market, it deepens income and welfare inequalities in the long-term. The chapter concludes that FPE is contrary to the national objective of education, which is to eradicate ignorance and build a cohesive, equitable society.

Molebatsi and Dipholo assess the implementation, achievement, experiences and challenges of universal primary education (UPE) in Botswana in Chapter Three. While the chapter attributes progress in UPE to economic growth, there are problems regarding consolidation of such progress. There is also a dire need to reflect on the qualitative aspect of the education being provided if the goal of UPE is to become a meaningful and worthy course.

What does it mean to implement global development agenda in fragile states?  In Chapter Four, Mireille Rabenoro analyses the challenges of the implementation of universal primary education (MDG 2) and gender equality (MDG 3) in Madagascar. The chapter argues that given the institutional weaknesses of the state, with political instability and policy inconsistencies, implementation of the MDGs and the quest to achieve targets on education and gender equality have become a mirage.  Generally, the MDGs path has followed broken aspirations of the people and the state as a whole. 

In Chapter Five, Elizabeth Msoka assesses the implementation, achievements, experiences and challenges of promoting gender equality and empowering women (MDG 3) and combating HIV/AIDS, malaria, and other diseases (MDG 6). Her study shows that as a result of the government strategy to increase women's access to education and the role that human rights activists have played in empowering women, Tanzania has made good progress towards achieving universal primary education. However, the country still has one of the lowest women enrolment rates for higher learning. Gender equality in employment is slow due to lack of comprehensive strategies that would shift women from agricultural to non-agricultural paid jobs. On the goal of combating HIV/AIDS, malaria and other diseases, the study points out the fact that Tanzania will not be able to achieve the targets by 2015.

In Chapter Six, Tapologo Maundeni uses feminist theory, the rights-based approach and social learning theory to analyse implementation of gender equality and women empowerment in Botswana.  Maudeni shows that as part of the efforts to realize the MDG on gender equality and women's empowerment, Botswana set several national targets. These include: reducing gender disparity in all education; reducing gender disparity in access to and control of productive resources; reducing discrimination and violence against women, and the incidence of rape by 50 per cent by 2011; raising women's participation in leadership and decision-making positions by at least 60 per cent by 2015. The chapter shows that while statistically gender parity in education has been achieved, differences exist in relation to the choice of subjects/disciplines. Moderate progress has been made in women's access to and control of resources but minimal progress has been achieved in the areas of violence and women's participation in leadership and decision-making positions.

Chapter Seven by Ellen Bortei-Doku Aryeetey and George Domfe explores whether social intervention programmes implemented during the MDGs have contributed to female empowerment. Using data from three series of national surveys from 1999 to 2010 and applying linear and probit regression analysis, the chapter shows that there has been progress in the welfare of women during implementation of the MDGs, though women still lag behind men in welfare ranking. Factors such as acquisition of formal education and delay in marriages were found to correlate positively with the MDG indicators that are associated with gender improvement. The study recommends a pragmatic policy to deepen the current efforts of making education more accessible and attractive to women as a way of ensuring gender empowerment.

In Chapter Eight, Sorre Benard provides evidence on realization of MDG 5 in Kenya.  Sorre's analyses show that despite the fact that the Government of Kenya has established various policies and strategic measures to improve maternal health, maternal mortality has remained high. He concludes that Kenya is unlikely to achieve the targets set in MDG 5 by 2015. The reason is that implementation of the strategic measures and policies to achieve those targets has been flawed.  Implementation failed to take into consideration health-seeking behaviour of Kenyan women within the political economy context they live in.

In Chapter Nine, Narathius Asingwire analyses governance and management issues in rural safe water supply in Uganda. The chapter shows that attempts by the government to improve access to rural water supply have resulted in the development of new institutional arrangements involving multiple state and non-state actors. These new arrangements have shifted efforts towards rural water provision from government to governance. However, this effort has not resulted in any appreciable improvement in rural water provision. As a result the national and MDG targets for safe rural water for 2015 are very unlikely to be achieved. The paper concludes that the challenge in ensuring increased access to safe water could be largely attributed to difficulties that various actors in the institutional framework face in playing their designated roles.

In Chapter Ten, Pugalis, Giddings and Anyigor analyse the progress that Nigeria is making in alleviating slum conditions. Based on the findings of the study, the chapter recommends slum alleviation strategies that would not only focus on physical and environmental interventions but also provide social and economic support. The paper develops multidimensional framework for improving the living conditions of slum dwellers that could be used to improve slum conditions in future programmes.

In just a year's time the World will take final stock of the achievements of the MDGs, but already discussions are on-going about defining the contents and corresponding targets and measuring indicators of what will replace the MDGs in Post-2015. There is a strong indication that the future global agenda would build on the strengths of the implementation of MDGs while at the same time meeting emerging development challenges like climate change, urbanisation and terrorism. The ten chapters presented in this volume provide important lessons on how the MDGs were implemented in the respective countries, the results and challenges, and suggestions on moving into Post-2015.  Readers will find some of the country experiences fascinating and at the same time mind-boggling. What the chapters have in common is the complexity of operationalising global goals in a resource-constrained environment.

The anthology winds up with concluding notes by Herman Musahara.